:::
:::
Hidden Pacific
Science Center/1F/Space Theater
On the far reaches of the Pacific Ocean, blue-green islands, atolls, and coral reefs are thriving with a dizzying array of wildlife and tropical beauty, largely untouched by humans and currently protected as marine national monuments. Hidden Pacific will bring viewers to never-before-seen footage of these remarkable places, sharing the splendor of such pristine environments and their important role in safeguarding our planet.
Hidden Pacific features Palmyra Atoll, within the Pacific Remote Islands Marine National Monument, Midway Atoll, part of Papahanaumokuakea Marine National Monument, recently expanded by President Barack Obama in 2016, and Rose Atoll Marine National Monument, in American Samoa.
The film's breathtaking footage of these faraway islands will leave audiences with a deepfelt appreciation for these extraordinary places and the beauty of nature left untouched by civilization. The storied histories of these atolls—from the WWII Pacific Theater to their present environmental recovery and ecological research initiatives—provide the platform from which the film explores a diversity of science and human-interest stories.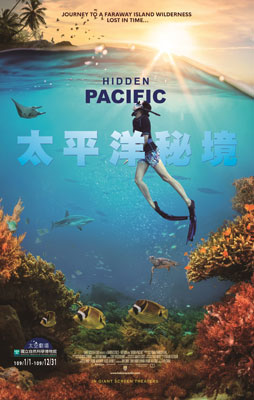 太平洋秘境海報
Hidden Pacific seeks to educate the public about the critical role these marine monuments play in the face of environmental threats such as climate change, global warming, rising sealevels, ocean acidification, overfishing, and plastics pollution. Changes to current marine national monument protections could forever alter the delicate balance of these pristine marine ecosystems and the overall health of the planet.
2022/11/29 Updated